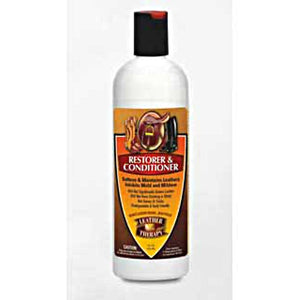 Protect your investment with Award winning Leather Therapy Restorer & Conditioner. It conditions from the inside-out and tests show a significant increase in leather tensile strength. Protects leather from the enemies that shorten its life -- drying sun, wind, moisture, mold & mildew.
Product of the Year. From saddles to boots, shoes, jackets, luggage and to your favorite chair, Leather Therapy will make your leather behave - Beautifully! Eradicates Mold, Mildew and associated Odor problems. Leather lasts longer with regained suppleness and strength.
Dries with a soft sheen and enhances original color. Restores even older stiff, dried-out leather. Non-greasy or sticky. Biodegradable - Earth Friendly.