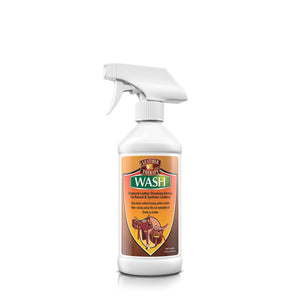 Deep-cleaning leather cleaner with no residue.
Our leather cleaner deep cleans from the inside out, lifting dirt and grime from the inner fibers of leather to prevent deterioration and cracking—without leaving surface residue. This convenient leather cleaner is gentle on both leather and stitching, and will perform flawlessly on the finest saddles and tack, boots, shoes, and jackets—even synthetic leather. It is ideal for cleaning western tack with intricate tooling because the residue-free formula eliminates buildup in detailed areas.
Deep cleans to lift out embedded dirt
Easy spray application for daily use
No residue or moisture buildup
Simply wipe off—there's no need to rinse
For best results, follow cleaning with Leather Therapy® Restorer & Conditioner
Leather Therapy Wash is the leading recommended leather cleaner for the finely crafted line of equestrian products from ADT Tack, LLC.